Knives and Blades are Not for sale to persons under the age of 18. Read More
---
Olfa Endurance Blade RB45H & RB60H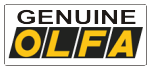 OLFA Endurance Blades "
RB45H
" and "
RB60H
" with the amazing long-lasting sharpness, outwear the standard
RB45
and
RB60
respectively.
The premium blades go further away while our classic blades need more frequent blade exchanges.

Endurance Blade helps save time and money, and it is perfect for heavy Rotary Cutter users.

Having the distinctive logo, 8ENDURANCE BLADE, on the package, it stands out in the crowds.
Specially honed for long-lasting cutting performance and durability.

Manufactured from high-quality Japanese tool steel.

OLFA blades are designed for right hand or left hand cutting, to ensure safety only use genuine Olfa replacement blades mounted on OLFA cutters and knives

Olfa professional blades deliver durable, lasting performance, each blade is precision Double Micro-honed edge for unparalleled superior sharpness and edge retention.

OLFA blades undergo an advanced production process that results in excellent sharpness and long life.

Olfa Internal Test
Load:0.6kgf (used this figure based on the data that

RB-60H

needed at lease 0.6kgf when it cuts 2,000 metres without uncutting parts remained)

Cutting objext: four layers of cotton broadcloths

Handle for testing:

RTY-3/G

There are manufacturing tolerances and variations in every production lot.
In combination with an OLFA RTY handle, the Endurance Blade works most effectively.
The price a quilter pays per every cut becomes lower as she covers the distance with it. Believe it or not, the one and only G handle has been around since OLFA invented Rotary Cutter and, together with Olfa Cutting Mats, took the place of sewing scissors.
Value Pack Models:
Olfa RTY - 2G/H

Olfa RTY - 3G/H