Knives and Blades are Not for sale to persons under the age of 18. Read More
---
OLFA H-1 25mm Extra Heavy Duty Cutter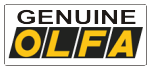 OLFA H-1 Extra Heavy duty cutter ultra-resistant straight knives 25mm Blade
Featuring the 25mm blade, the extra heavy-duty cutter most appropriate for professional work places.

Tough durable heavy duty cutter, straight non-slip holder, large rubber cushion grip on handle, ratchet wheel blade lock, cut materials with ease, combines smooth and effective control.
Blade Specification:
Blade Length: 126mm
Blade Width: 25mm
Blade Thickness: 0.7mm
The 59 degree angle on the front edge maximizes cutting power and minimizes blade breakage, ideal for applications where precision accurate performance is required, symmetrical handle with non-slip rubber insert
Ratchet blade actuator, stainless steel blade channel, sharp 25mm silver blade.
Comes Pre-loaded with a 25mm heavy duty silver blade (HB)
Suitable Applications:
Craft
Tape
Sewing
Upholstery
Carpet
Window Tint
Window Film
Packaging
Tape
Wallpaper
Shrink Wrap
PVC
Car Wrap
Vinyl Sign Lettering
Vinyl
Fabrics
Cardboard
Karndean Flooring
Wood Veneer
Useful Tip:
For best results to achieve quality performance and maintain a sharp extended blade life of all Olfa knives, blades and tools we strongly recommend to use a Olfa self healing cutting mat as a cutting surface, Limit the use your olfa knives on a stone surface or a wooden cutting surface, this will decrease the blade life rapidly.
MPN Olfa H-1
---
Related Products
Tags: OLFA H-1BB/5BB 25mm Extra Heavy Duty Cutter, H1, H1BB, HBB, Heavy, Duty, 25mm, H1 Blades, 25mm Spare Blades, Olfa XH-AL, XH-1, XH1, XH-1, Olfa Knife, XH Olfa, X-Grip, Olfa XH-AL, Olfa X Design, 25mm, HB-5B, HB-20, HBB-5B, HSWB-1, XH, XHAL, XH AL
Featured

---
OLFA® Satisfaction Guaranteed Policy

OLFA cutter & non-disposable scraper handles, locking mechanisms, and 9mm standard duty blades, 18mm heavy duty blades, 25mm extra-heavy duty blades, safety and trapezoid-shaped blades and scraper blades are subject to the World Kitchen d/b/a/ OLFA - North America satisfaction guaranteed or replacement policy.*
If at any time you are dissatisfied with these "Satisfaction Guaranteed" products, we will provide an equally valued replacement. Please allow 4 to 6 weeks for delivery of replacement product. Should you be dissatisfied with any such product, please keep it. You may be asked to return it. Please contact our Consumer Care Center.
*PLEASE NOTE: This Policy does not apply to OLFA TouchKnife®, OLFA scissors, OLFA mats, OLFA rulers, disposable OLFA multi-purpose scrapers, all styles and models of 18mm, 28mm, 45mm, 60mm, rotary cutter replacement blades, and all styles and models of "KB" art knife replacement blades.
Note on Safety
OLFA blades are extremely sharp. Handle with care. Wear safety goggles. Always be alert and attentive when using a cutter or knife.
Take the time to fully learn the correct use and limitations of any cutter.

Never assume that you know how to properly use a knife.

Always store knives and blades in a safe place. Keep out of reach of children!