Knives and Blades are Not for sale to persons under the age of 18. Read More
---
Olfa CS-5 Multi-Tool Pull Saw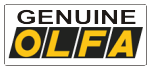 Olfa CS-5: Pull Saw, the Cutting Solution for Precision and Efficiency, 2 in 1 pull saw and snap-off cutter
Searching for a cutting tool that combines precision, durability, and efficiency? Look no further than the Olfa CS-5. With its outstanding design and cutting-edge features, the Olfa CS-5 is the ultimate companion for professionals and hobbyists alike, providing unmatched performance and versatility.
A combination of keyhole saw blade and 12.5mm snap-off blade cutter, 2 blades in 1 handle ideal for electricians.
Sharp-pointed tip drills a hole in a board to start cutting, The bi-directional saw blade cuts while pushing and pulling leaving a clean cut surface.
Saw Blade Specification: (SWB-5/1B)

Saw Blade Teeth Length: 95mm
Blade Width: 8mm
Blade Thickness: 1.25mm
Overall Length: 135mm
Blade Reference: SWB-5/1B
Snap-off Blade Specification: (MTB-10B)
Blade Length: 83.3mm
Blade Width: 12.5mm
Blade Thickness: 0.45mm
Snapp-off segments: 9
Blade Reference: MTB-10B
Setting itself apart from the competition, the Olfa CS-5 stands out with its superior build quality and meticulous attention to detail. Engineered with precision, this cutting tool guarantees accurate cuts every time, allowing you to achieve flawless results in your projects. Whether you're working with fabric, paper, leather, or other materials, the Olfa CS-5 ensures clean and precise cuts with minimal effort.

One of the key features that distinguishes the Olfa CS-5 is its innovative blade design. Equipped with a sharp and durable stainless steel blade, this tool delivers exceptional cutting performance, effortlessly gliding through various materials. The blade's edge retention ensures long-lasting sharpness, reducing the need for frequent replacements and saving you valuable time and money in the long run.
Features of the Olfa CS-5:
2-in-1 multi-tool utility knife combining a key hole saw and a snap-off 12.5mm blade knife.
Adjustable key hole saw blade for flexible depth control.
Ratchet-lock mechanism providing unlimited blade positions for the key hole saw.
Sturdy auto-lock mechanism for the snap-off blade.
Double-honed blade for superior initial sharpness and edge retention.
Anti-slip rubber grip acetone-resistant handle and stainless steel blade channel for a secure and comfortable grip.
Comfort and safety are paramount in the design of the Olfa CS-5. The tool features an ergonomic handle that provides a comfortable grip, minimizing fatigue and allowing for prolonged use without discomfort. Additionally, the built-in safety lock mechanism ensures that the blade remains securely in place when not in use, preventing accidental cuts and providing peace of mind.

Versatility is another outstanding aspect of the Olfa CS-5. This tool is compatible with a wide range of Olfa rotary blades, allowing you to choose the perfect blade for your specific cutting needs. Whether you require straight cuts, curved lines, perforations, or decorative edges, the Olfa CS-5 offers the flexibility to tackle any project with ease.

Not only does the Olfa CS-5 offer exceptional performance, but it also ensures easy maintenance. The blade replacement process is straightforward and hassle-free, allowing you to quickly switch blades when necessary and continue working uninterrupted. This user-friendly feature makes the Olfa CS-5 an ideal choice for both beginners and experienced users.

Furthermore, the Olfa CS-5 is built to withstand the test of time. Its robust construction and high-quality materials guarantee durability and longevity, making it a reliable tool that will accompany you through countless projects. Whether you're a professional in need of a trustworthy cutting companion or a hobbyist seeking precise results, the Olfa CS-5 is the perfect tool for all your cutting needs.

Ideal for

Carpet
Fabric
Cardboard
Paper
Balsa Wood
Film
Soft Wood
Leather
Vinyl
PVC
Plastic Film
Car Wrap
Linoleum
Electrical Wiring
Interior Finishes
Drywall & Plasterboard
The Olfa CS-5 is the ultimate cutting solution that offers precision, durability, and efficiency. With its exceptional design, innovative features, and versatile capabilities, this tool is a game-changer for anyone working with various materials. Invest in the Olfa CS-5 and experience the joy of effortless and precise cutting in all your projects.

MPN Olfa CS-5
---
Related Products
Tags: Olfa CS-5, LB, LBB, LBB10, LBB50, L, CS5.CS, SWB-5/1B, MTB-10B, Pull Saw, Olfa CS-5 Pull saw, Pull saw for woodworking, Olfa CS-5 hand saw, Precision pull saw, Japanese-style pull saw, Olfa CS-5 cutting tool, Versatile pull saw Compact pull saw, Professional pull saw, High-quality pull saw, Olfa CS-5 carpentry tool, Durable pull saw, Efficient cutting with Olfa CS-5 Pull saw for precise cuts, Olfa CS-5 woodworking saw, Ergonomic pull saw, Fine tooth pull saw, Olfa CS-5 saw for DIY projects, Pull saw for construction, Olfa CS-5 saw for fine woodworking
Featured

---
OLFA® Satisfaction Guaranteed Policy

OLFA cutter & non-disposable scraper handles, locking mechanisms, and 9mm standard duty blades, 18mm heavy duty blades, 25mm extra-heavy duty blades, safety and trapezoid-shaped blades and scraper blades are subject to the World Kitchen d/b/a/ OLFA - North America satisfaction guaranteed or replacement policy.*
If at any time you are dissatisfied with these "Satisfaction Guaranteed" products, we will provide an equally valued replacement. Please allow 4 to 6 weeks for delivery of replacement product. Should you be dissatisfied with any such product, please keep it. You may be asked to return it. Please contact our Consumer Care Center.
*PLEASE NOTE: This Policy does not apply to OLFA TouchKnife®, OLFA scissors, OLFA mats, OLFA rulers, disposable OLFA multi-purpose scrapers, all styles and models of 18mm, 28mm, 45mm, 60mm, rotary cutter replacement blades, and all styles and models of "KB" art knife replacement blades.
Note on Safety
OLFA blades are extremely sharp. Handle with care. Wear safety goggles. Always be alert and attentive when using a cutter or knife.
Take the time to fully learn the correct use and limitations of any cutter.

Never assume that you know how to properly use a knife.

Always store knives and blades in a safe place. Keep out of reach of children!