Knives and Blades are Not for sale to persons under the age of 18. Read More
---
Olfa X Design Series™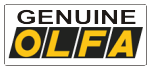 Olfa X Design Series™ innovative Comfort-Grip Series
X Design Series™ combines exceptional performance with innovation, adding a powerful new line of anti-slip grip cutting tools to the OLFA family of premium products.
The anti-slip grip comfortable handle is made from fiberglass conjoined with elastomer for exceptional performance.

Features a stainless steel blade channel that holds the blade tight for stability and safety. Chemical resistant for easy cleaning.

The Standard-Duty and Heavy-Duty versions include the Excel Black ultra sharp blade for superior sharpness.

These premium snap-off blades are 25% sharper than OLFA AB and LB blades.
The high quality carbon tool steel blades are produced using OLFA's precise multi-step production process for superior edge retention.
Olfa Excel Black Blades
Blades : LBB-30B, LBB-10B, LBB-50B, LBB-10, LBB-50, LFB (LFB are Fluorine Coated)
Blade Width: 18 mm
Blade Length: 100 mm
Blade Thickness: 0.5 mm
Blade Type: Snap-off Blade, 8-segment
Introducing the Olfa X Design Series™ - Handles:
A Perfect Combination of Grip, Stability, and Japanese Craftsmanship
When it comes to precision cutting, there is one name that stands above the rest - Olfa. With their new X Design Series™ handles, Olfa has raised the bar yet again by incorporating a rubber grip that ensures a slip-free experience while providing unparalleled stability.
The X Design Series™ handles are meticulously crafted to deliver the ultimate cutting experience. Designed with the user in mind, these handles prioritize grip and stability, making every cut effortless and precise. Whether you're a professional or a hobbyist, these handles are built to cater to your needs.
One of the defining features of the X Design Series™ handles is the made in Japan feel. Japan is renowned for its craftsmanship and attention to detail, and Olfa has harnessed that essence in these handles. Each handle is crafted with precision and care, ensuring that you experience the highest quality and reliability.
Let's take a closer look at the different models in the X Design Series™ handles:
Extra Heavy Duty
-
XH-1
- 25mm Blade
The XH-1 handle is built to tackle the toughest cutting tasks with ease. Its robust construction and ergonomic design make it perfect for heavy-duty applications. Whether you're working with thick materials or demanding projects, the XH-1 is your reliable companion.
The L-5 handle strikes the perfect balance between durability and maneuverability. It is designed to handle a wide range of cutting jobs, from intricate designs to thicker materials. With the L-5, you'll experience precise cuts without compromising on control.
Medium Sized
-
XMT-1
- 12.5mm ~Blades
The XMT-1 handle offers versatility and convenience for everyday cutting needs. It is ideal for medium-sized projects and provides a comfortable grip that minimizes hand fatigue. With the XMT-1, you can effortlessly tackle various cutting tasks with confidence.
Standard Duty
-
XA-1
- 9mm Blades
The XA-1 handle is a reliable workhorse that excels in standard cutting applications. It offers a perfect balance of functionality and affordability, making it an excellent choice for both professionals and enthusiasts. With the XA-1, you can achieve accurate and consistent cuts effortlessly.
The XSR- scraper handles are specifically designed for scraping tasks. They features a sturdy construction and a comfortable grip, allowing you to remove stubborn materials with ease. Whether you're working on surfaces or removing adhesives, the Olfa X Design Series™ scrapers- XSR-200, XSR-300 or XSR-600 are your go-to tools.
To sumerise, the Olfa X Design Series™ handles are the epitome of cutting-edge innovation and superior craftsmanship. With their rubber grip, they ensure a secure hold and provide unparalleled stability, taking your cutting experience to new heights. Experience the precision and reliability that only Olfa can deliver with these meticulously designed handles. Choose the handle that best suits your needs and elevate your cutting game to the next level.