Knives and Blades are Not for sale to persons under the age of 18. Read More
---
Olfa Scraper XSR-600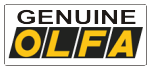 OLFA X-Grip Heavy Duty Extra Long Scraper
Top professional quality Olfa XSR 600 scraper works just as great as it looks!
The exceptional X-design grip for optimal performance and maximum scraping power, very strong 100mm wide blade makes scraping easy work, handles a variety of intense scraping jobs.
Built to last, made with only premium quality Japanese materials, comes ready to use with a pre-loaded durable dual sharp and blunt edge stainless steel carbon blade for a better longer-lasting performance and blade edge retention.
Very versatile scraper, great for use on glass for finer scraping jobs to more intense heavy duty construction jobs.
Suitable for both left hand and right handed users
Specification:
Overall tool length: 600mm
Blade width working edge: 100 mm
Blade height / depth: 18mm
Blade thickness: 0.50mm
Great for scraping
Roofing felt
Paint
Glue
Epoxies
Tough adhesives
Hard coatings
Wallpaper
Tile adhesive
Carpets
Floor tiles
Wood and many more tasks
Acetone oil resistant, non-slip rubber grip handle for comfort and stability
Use with a hammer..!
Incorporates a built-in durable steel strike tip, designed for hammer impact, gives the Olfa XSR 600 scraper maximum striking power for removing the most stubborn materials
No special tools required to change the blade, quick and easy blade replacement, use a coin or thumb to loosen the large centre blade retaining lock screw, swap blade and the Olfa XSR 600 is ready to use within seconds.
For added safety and protection when the cutter is in storage or not in use a handy clip on blade cover is include.
Replacement blades available: BS-10B, BSF-6B, BS08-6B
MPN Olfa XSR-600
---
Related Products
Tags: Olfa, Scraper, XSR, XSR-200, XSR-300, XSR-600, SCR, BS-086B, BS-10B, BSF-6B, BS086B, BS10B, BSF6B, Wall Scraper
Featured

---
OLFA® Satisfaction Guaranteed Policy

OLFA cutter & non-disposable scraper handles, locking mechanisms, and 9mm standard duty blades, 18mm heavy duty blades, 25mm extra-heavy duty blades, safety and trapezoid-shaped blades and scraper blades are subject to the World Kitchen d/b/a/ OLFA - North America satisfaction guaranteed or replacement policy.*
If at any time you are dissatisfied with these "Satisfaction Guaranteed" products, we will provide an equally valued replacement. Please allow 4 to 6 weeks for delivery of replacement product. Should you be dissatisfied with any such product, please keep it. You may be asked to return it. Please contact our Consumer Care Center.
*PLEASE NOTE: This Policy does not apply to OLFA TouchKnife®, OLFA scissors, OLFA mats, OLFA rulers, disposable OLFA multi-purpose scrapers, all styles and models of 18mm, 28mm, 45mm, 60mm, rotary cutter replacement blades, and all styles and models of "KB" art knife replacement blades.
Note on Safety
OLFA blades are extremely sharp. Handle with care. Wear safety goggles. Always be alert and attentive when using a cutter or knife.
Take the time to fully learn the correct use and limitations of any cutter.

Never assume that you know how to properly use a knife.

Always store knives and blades in a safe place. Keep out of reach of children!