Knives and Blades are Not for sale to persons under the age of 18. Read More
---
Olfa GSR-1/3B Glass Scraper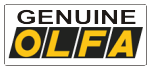 Olfa GSR-1/3B
Includes 3 spare blades (GSB-1B)
120mm double-edged blade wide multi-grip glass scraper for enhanced control, all metal parts are made of stainless steel as a result can be used wet or dry, with glass detergents
Blade Specification:
120mmBlade Width
0.25mm Blade Thickness
Extremely sharp inclined blade edge glass scraper with a 120mm wide stainless steel blade held securely in five points.
Specifically designed to tackle the toughest scraping applications, does not scratch glass surface
Ideal for:
Commercial
Retail Shop Windows
Buildings
Hospitals
Hotels
Offices
Wide handle with a thin profile permits this scraper to get into low positions – works perfect on flat glass.
Features a detachable blade safety guard which fits over the handle to prevent loss, and also improves handle grip and better blade control
The Olfa GSR-1 body is fibre glass-reinforced, heavy duty tough and durable is acetone and chemical resistant, Easy wipe clean
Quick blade change no need for use of any tools, comes pre-loaded with Olfa GSB-1S stainless steel blade,
The large lanyard hole to attached to waist tool belt, (lanyard not included)
Works great on:
Paint
Vinyl
Silicone
Adhesives
Ceramic or Glass hob
Film
Dirt
Excess Paint
Varnish
Silicone Sealant
Decorators Caulk
Mortar
Glass surfaces
Tile Surface
Excess adhesives and grout
Stickers
Glass Paint
Glass Frosting Paint
Ready to use straight out of the packaging Pre-loaded with a 120mm stainless steel blade

For left and right-handed users
Replacement blade available
GSB-1/S (30 Blades)

MPN Olfa GSR-1/3B
---
Related Products
Tags: olfa, scraper, GSR, GSR1, GSB, GSB-1, Glass Scraper, GSR-1/3B
Featured

---
OLFA® Satisfaction Guaranteed Policy

OLFA cutter & non-disposable scraper handles, locking mechanisms, and 9mm standard duty blades, 18mm heavy duty blades, 25mm extra-heavy duty blades, safety and trapezoid-shaped blades and scraper blades are subject to the World Kitchen d/b/a/ OLFA - North America satisfaction guaranteed or replacement policy.*
If at any time you are dissatisfied with these "Satisfaction Guaranteed" products, we will provide an equally valued replacement. Please allow 4 to 6 weeks for delivery of replacement product. Should you be dissatisfied with any such product, please keep it. You may be asked to return it. Please contact our Consumer Care Center.
*PLEASE NOTE: This Policy does not apply to OLFA TouchKnife®, OLFA scissors, OLFA mats, OLFA rulers, disposable OLFA multi-purpose scrapers, all styles and models of 18mm, 28mm, 45mm, 60mm, rotary cutter replacement blades, and all styles and models of "KB" art knife replacement blades.
Note on Safety
OLFA blades are extremely sharp. Handle with care. Wear safety goggles. Always be alert and attentive when using a cutter or knife.
Take the time to fully learn the correct use and limitations of any cutter.

Never assume that you know how to properly use a knife.

Always store knives and blades in a safe place. Keep out of reach of children!