Knives and Blades are Not for sale to persons under the age of 18. Read More
Olfa GSR-2 Glass Mini Scraper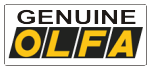 Small tool to take on tough scraping jobs the Olfa GSR-2 is a durable multi purpose mini scraper, works well in tight narrow spaces and on curved surfaces.
Tough Robust Durable
Includes replacement blades
Blade Width is 40mm

The body handle is light weight, strong reinforced fiberglass, with a wrap around anti-slip grip that gives users added comfortable hand grip and better blade control.

All metal parts are made from stainless steel

This Olfa mini scraper is fitted with Olfa GSB-2S stainless steel blade, hence it is rust free and corrosion resistant and easy to clean.

large tethering/lanyard hole is ideal for hanging the Olfa GSR-2 scraper tool to your waist belt pouch or attach it to your workbench prevents misplacing.

Fast and easy blade change, no tools required, Olfa GSR-2 has a blade storage container comes with six Olfa GSB-2S.6B stainless steel blades.
Keyed blade avoids movement within handle during tough applications

The blade storage container conveniently snaps into the handle when the tool is in use and doubles as a blade safety cover when required.

Works great for scraping

Adhesives
Ceramic or Glass hob
Film
Dirt
Excess Paint
Varnish
Silicone Sealant
Decorators Caulk
Mortar
Glass surfaces
Tile Surface
Excess adhesives and grout


Suitable for gently shifting those burnt on stains, suitable for use on Windows

Ideal for professional use in commercial environments, industrial or DIY projects, can be used left or right handed

All OLFA blades undergo an advanced production process micro-honed blade provides superior initial sharpness and edge retention,
that results in excellent sharpness and long life.
Made of high-quality Japanese grade carbon tool steel and designed for unparalleled sharpness and superior edge retention.

Olfa Blades are suitable for cutting a range of materials
MPN: Olfa GSR-2
---
Brand: Olfa
Product Code: Olfa GSR-2
MPN: Olfa GSR-2
WH: LOC-145
Availability: In Stock
£11.99

Price Includes VAT & Free Postage
Related Products
Tags: Olfa GSR-2, Glass Mini Scraper, GSR, GSR2, GSB-2S6B, GSB, GSB-2, GSB2, GSB2-6B
Featured

---
OLFA® Satisfaction Guaranteed Policy

OLFA cutter & non-disposable scraper handles, locking mechanisms, and 9mm standard duty blades, 18mm heavy duty blades, 25mm extra-heavy duty blades, safety and trapezoid-shaped blades and scraper blades are subject to the World Kitchen d/b/a/ OLFA - North America satisfaction guaranteed or replacement policy.*
If at any time you are dissatisfied with these "Satisfaction Guaranteed" products, we will provide an equally valued replacement. Please allow 4 to 6 weeks for delivery of replacement product. Should you be dissatisfied with any such product, please keep it. You may be asked to return it. Please contact our Consumer Care Center.
*PLEASE NOTE: This Policy does not apply to OLFA TouchKnife®, OLFA scissors, OLFA mats, OLFA rulers, disposable OLFA multi-purpose scrapers, all styles and models of 18mm, 28mm, 45mm, 60mm, rotary cutter replacement blades, and all styles and models of "KB" art knife replacement blades.
Note on Safety
OLFA blades are extremely sharp. Handle with care. Wear safety goggles. Always be alert and attentive when using a cutter or knife.
Take the time to fully learn the correct use and limitations of any cutter.

Never assume that you know how to properly use a knife.

Always store knives and blades in a safe place. Keep out of reach of children!