Knives and Blades are Not for sale to persons under the age of 18. Read More
---
How To Snap-off Utility Cutter Blades
Olfa Utility knives are used commonly for cutting a range of materials like paper, card, fabrics, textiles, foam, carpet, underlay, plasterboard, thin plastics, balsa wood, tape, wallpaper, shrink wrap, PVC, vinyl, leatherette, vinyl flooring, window tint, car wrap etc..
When the quality of the cut is not smooth and the utility knife feels like it is dragging through the material been cut instead of cutting through, it is time to snap-off the blade to expose a new sharper edge.
Olfa blades are pre-scored at 1cm segments; when the blade or tip becomes blunt simply snap the blade at the next segment to expose a new sharp tip and edge.

Caution: The blades on Olfa cutters and knives are extremely sharp and will cut through your fingers like a hot knife through butter so take extra care when handling the blades. always use safety glasses when snapping a blade segment. A blunt blade or broken segment may not look sharp but is still very sharp to cut your skin.

You must never at any point try to snap-off a blade segment using your fingers even if you are wearing gloves, always use a pair of pliers to hold the part of the blade you want to snap-off.

If you are in doubt and not sure on anything or simply just need advice please contact us, we are more than happy to help and answer any question you have.


Here is a guide on how to snap-off a segment from an Olfa utility cutter blade
Check if the Olfa cutter you are using comes with its own built in tool to snap-off the blade segments; otherwise you will need a pair of plies to carry out this task safely. Watch a video


Look closely if the blade in your Olfa utility knife has diagonal score markings running every 1cm along the blade, these are the score marks that allow the blade to be snapped for a new sharper tip.


Snap The Blade
Step by step

Extend out the blade to the next score mark
Face the knife away from you
Hold the exposed end of the blade with a pair of pliers next to the score mark, make sure the pliers are parallel to the score line.
Holding the utility knife tightly Snap the blade in a downwards action away from you, blade will snap at the score line close to the pliers.

New Sharp Tip is exposed

Compare the old tip and the new tip
Nice new sharp tip ready to use.
Dispose the used snapped off segment of the blade safely in a sharps container.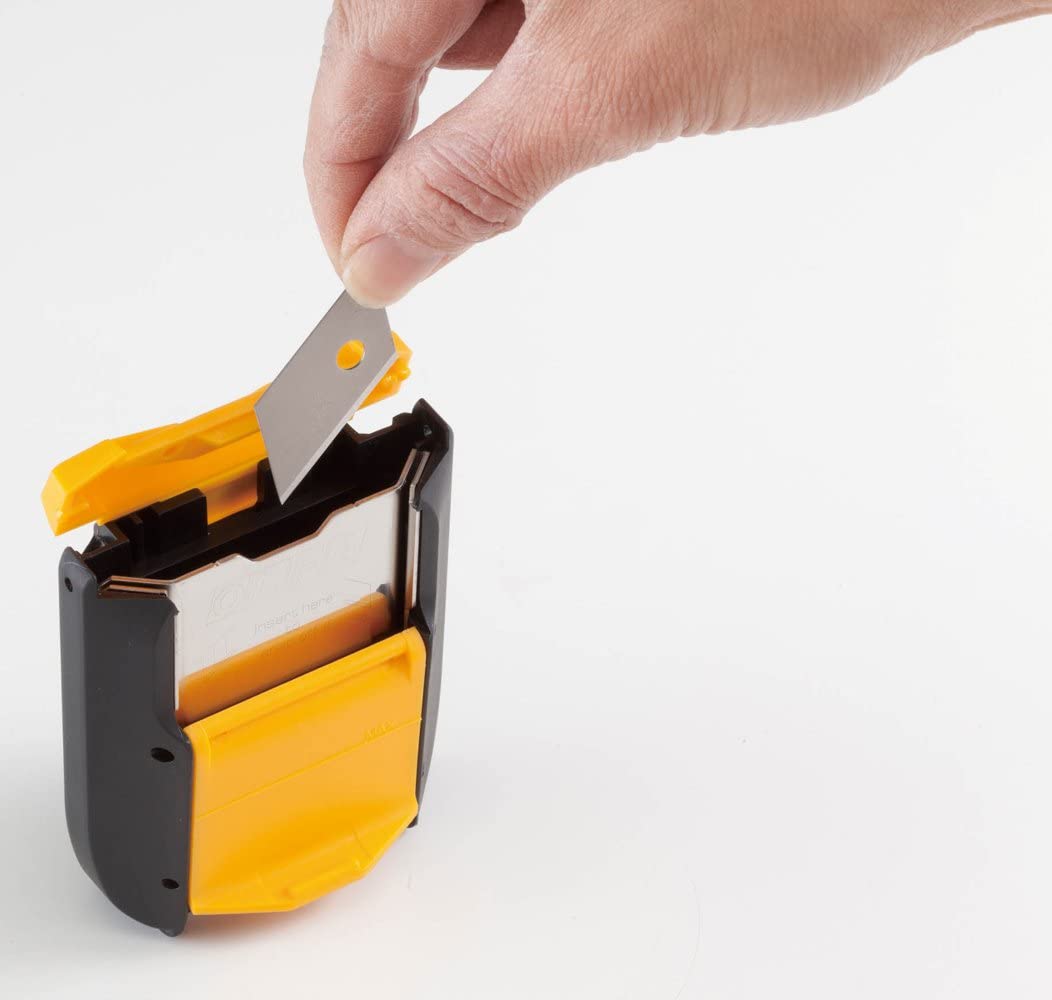 If your utility knife runs out of score lines to snap off, the blade has come to the end of its life and needs changing, order new replacement blades for your Olfa tool

How to change the blade of a Olfa snap-off utility cutter