Knives and Blades are Not for sale to persons under the age of 18. Read More

Olfa EXL Heavy-Duty Cutter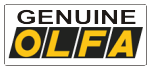 Olfa EXL Economical Heavy-Duty Cutter with auto-lock, 18mm Snap off cutter
Economical heavy-duty cutter has an auto-lock slide mechanism, use the knife single-handedly to lock the blade positively in place.
Ideal for left handed or right handed use
Olfa EXL knife is durable, cost efficient and practical to use, easy to identify, what differentiates this knife from other similar Olfa knives are the two parallel silver lines on the reverse side of the handle,
Perfect for cutting

Paper
Craft
Tape
Sewing Threads
Upholstery
Carpet
Window Tint
Window Film
Packaging
Tape
Wallpaper
Shrink Wrap
PVC
Vinyl Leatherette
Vinyl Flooring
Fabrics
Cardboard
Karndean Flooring
Wood Veneer
Foam Board
Plaster Board or Drywall
Fiberglass Insulation
Trim wood Shims
Roofing Felt
Roofing Shingles
Cut Dried Caulk
Wood
Cable Insulation
acetate, etc.
Replacement Blades
Wide range of replacement LB 18mm 8 & 15 segment snap of blades available in Silver or Excel Black, this knife also accepts the Heavy duty Solid Type Blades (LB/SOL)

10 pack or 50 packs
LB-10 or LB-50 (Standard Silver Blades)
LBB-10 or LBB-50 (Excel Black)
LBD-10 (Double Segment)
LB/SOL -10 (Heavy Duty Solid Type)
LFB-5B - Fluorine coated heavy-duty blade "Speed Blade" (5 Blade Pack)
MPN OLFA EXL
---
Brand: Olfa
Location: LOC-159
Product Code: Olfa EXL
MPN OLFA EXL
Availability: In Stock
£14.29

Ex Tax: £11.91

Price Includes VAT & Free Shipping
Related Products
Tags: olfa EXL, EXL, LB, LB-10, LB-50, LBB, LBB-10, LBB-50, LBD-10, LB-SOL, LBSOL, Solid Blades, Fluorine Coated Blades

---
OLFA® Satisfaction Guaranteed Policy

OLFA cutter & non-disposable scraper handles, locking mechanisms, and 9mm standard duty blades, 18mm heavy duty blades, 25mm extra-heavy duty blades, safety and trapezoid-shaped blades and scraper blades are subject to the World Kitchen d/b/a/ OLFA - North America satisfaction guaranteed or replacement policy.*
If at any time you are dissatisfied with these "Satisfaction Guaranteed" products, we will provide an equally valued replacement. Please allow 4 to 6 weeks for delivery of replacement product. Should you be dissatisfied with any such product, please keep it. You may be asked to return it. Please contact our Consumer Care Center.
*PLEASE NOTE: This Policy does not apply to OLFA TouchKnife®, OLFA scissors, OLFA mats, OLFA rulers, disposable OLFA multi-purpose scrapers, all styles and models of 18mm, 28mm, 45mm, 60mm, rotary cutter replacement blades, and all styles and models of "KB" art knife replacement blades.
Note on Safety
OLFA blades are extremely sharp. Handle with care. Wear safety goggles. Always be alert and attentive when using a cutter or knife.
Take the time to fully learn the correct use and limitations of any cutter.

Never assume that you know how to properly use a knife.

Always store knives and blades in a safe place. Keep out of reach of children!