Knives and Blades are Not for sale to persons under the age of 18. Read More
---
Olfa L7-AL Blue - X-DESIGN Cutter Limited Edition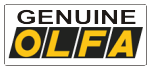 Olfa L7-AL - Blue Limited Edition Model
The Olfa L7-AL Blue is from the X-DESIGN™ excellence family.
This ensures a very comfortable handle which is anti-slip with an excellent grip, allowing you to use maximum pressure to cut, safely.
The whole handle area has a elastomer grip which takes a lot of the pressure off your hand, resulting in greatly reduced strain which can occur over long periods of use.
A re-enforced body with fiber glass gives the Olfa L7-AL ultimate durability and resistance to everyday materials and exposure to solvents and chemicals
The Olfa L7-AL has an Auto lock mechanism that secures the blade firmly in position, however much the blade is extended out.
Olfa L7-AL comes Pre-loaded with an Olfa Excel Black ultra sharp speed blade Fluorine Polymer Coated. (LFB Blade)
Blade Specification:

18 mm Blade Width
100 mm Blade Length
0.5 mm Blade Thickness
8-segment, 18mm snap-off blade

Black Speed Blade
Fluorine Polymer Coated Blade
Features & Benefits
Large Hole for Lanyard
Positive Auto Blade Lock for Maximum Stability
Replacement Blades Available, 18mm Standard Stainless Steel Blades, Black Excel Blades or Fluorine Polymer Coated Speed Blades
OLFA X design Comfort Grip series - Heavy duty cutter Sure grip handle made of elastomer for Acid and Aceton (oil) resistant
LFB is a blade whose cutting edge - subjected to two-stage honing, has been enriched with a Fluorine polymer coating. The low friction of the polymer coating on the edge of the blade results in a reduction in the force needed to cut the material, smooth cutting and long lasting exceptional initial cutting capacity. This type of technology is used, among others in the manufacture of shaving blades.
Suitable Uses:
Craft
Tape
Sewing Threads
Upholstery
Carpet
Window Tint
Window Film
Packaging
Tape
Wallpaper
Shrink Wrap
PVC
Vinyl Leatherette
Vinyl Flooring
Fabrics
Cardboard
Karndean Flooring
Wood Veneer
Foam Board
Plaster Board or Drywall
Fiberglass Insulation
Trim wood Shims
Roofing Felt
Roofing Shingles
Cut Dried Caulk
Wood
Cable Insulation
Made from high-quality carbon tool steel, Excel Black ultra sharp blades are manufactured using a special double honing process. Sharpened over a wider angle, they are much, much sharper than other blades on the market
Micro-honed blade provides superior initial sharpness and edge retention
Exact 59 degree front-edge angle optimizes cutting power and minimizes blade breakage
MPN Olfa L7-AL Blue
---
Related Products
Tags: Olfa L7-AL-Blue, Olfa L-7, Pink, Olfa L-7, Green, Olfa L7, Blue, Limited Edition olfa Model, Olfa L7, L7, Olfa Pink . Olf Blue, Olfa Green, Fluorine Polymer Coated Blade, LBB, lbb, Excel Blades, LFB, 18mm knife, 18mm cutter, 18mm
Featured

---
OLFA® Satisfaction Guaranteed Policy

OLFA cutter & non-disposable scraper handles, locking mechanisms, and 9mm standard duty blades, 18mm heavy duty blades, 25mm extra-heavy duty blades, safety and trapezoid-shaped blades and scraper blades are subject to the World Kitchen d/b/a/ OLFA - North America satisfaction guaranteed or replacement policy.*
If at any time you are dissatisfied with these "Satisfaction Guaranteed" products, we will provide an equally valued replacement. Please allow 4 to 6 weeks for delivery of replacement product. Should you be dissatisfied with any such product, please keep it. You may be asked to return it. Please contact our Consumer Care Center.
*PLEASE NOTE: This Policy does not apply to OLFA TouchKnife®, OLFA scissors, OLFA mats, OLFA rulers, disposable OLFA multi-purpose scrapers, all styles and models of 18mm, 28mm, 45mm, 60mm, rotary cutter replacement blades, and all styles and models of "KB" art knife replacement blades.
Note on Safety
OLFA blades are extremely sharp. Handle with care. Wear safety goggles. Always be alert and attentive when using a cutter or knife.
Take the time to fully learn the correct use and limitations of any cutter.

Never assume that you know how to properly use a knife.

Always store knives and blades in a safe place. Keep out of reach of children!