Knives and Blades are Not for sale to persons under the age of 18. Read More
---
Olfa Rotary Cutter 45mm RTY-2/G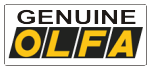 Olfa Rotary Cutters

Blade Size: 45mm Dia

Hobby rotary cutter easy to use rolling razor blade perfect for cutting multiple layers of fabrics, great for cutting squares, strips, circles and patterns fast and efficient, for best results and to maintain a sharp edge on the rotary cutter it is best to be used on a olfa rotary cutting mat, (sold separately)

Replacement genuine Olfa blades available
Replacement Blades:
A must have tool for all of your sewing and quilting needs. Comfortable grip ergonomic handle reduces hand and wrist fatigue, accommodates both left handed or right handed users.

Features:
Comfortable grip ergonomic handle
Quick and easy blade change
Contoured handle for comfortable cutting
High-quality Japanese carbon tool steel

Double-honed blade provides superior initial sharpness and edge retention

All OLFA art blades undergo an advanced production process that results in excellent sharpness and long life.
OLFA blades are designed for right hand or left hand cutting, to ensure safety only use genuine Olfa replacement blades mounted on OLFA cutters and knives


MPN Olfa RTY-2/G
---
Brand: Olfa
Location: LOC-2
Product Code: Olfa RTY-2/G
MPN Olfa RTY-2/G
Availability: In Stock
£14.29

Ex Tax: £11.91

Price Includes VAT & Free Shipping
Customer Reviews
Olfa Rotary Cutter 45mm RTY-2/G
I've been getting back into sewing recently, and have been watching the current series of Sewing Bee as I thought it might give me some tips. All the sewers use these cutters (obviously they're not advertised but you can tell!) so I thought I'd order some. They are great, so easy to use and they cut through fabric like a dream. I wish I'd found out about them years ago.The only thing I need now is a bigger cutting mat!
Related Products
Tags: RTY-2DX, RB45, WAB45, rty, rt, RTY-STQR, RTY-4G, RTY-1C, RTY-1DX, RTY-1G, RTY-2DX, RTY-2G, RTY-2NS, RTY-3DX, RTY-3G, RTY-3NS, PIB, PIK, RB, 18mm, 28mm, 45mm, 60mm, RTY-4, RB18-2, RTY-2DX, RB45, WAB45, rty, rt, RTY-STQR, RTY-4G, RTY-1C, RTY-1DX, RTY-1G, RTY-2DX, RTY-2G, RTY-2NS, RTY-3DX, RTY-3G, RTY-3NS, PIB, PIK, RB, 18mm, 28mm, 45mm, 60mm, Quilting rotary cutters, olfa rotary cutter, olfa cutters, quilting cutter, quilting, Fabric cutting wheel, PRC3, RTY4, RTY1c, RTY2DX, RTY2G, RTY2GH, RTY2NS, RTY3G, RTY3GH, RTY3DX
Featured

---
OLFA® Satisfaction Guaranteed Policy

OLFA cutter & non-disposable scraper handles, locking mechanisms, and 9mm standard duty blades, 18mm heavy duty blades, 25mm extra-heavy duty blades, safety and trapezoid-shaped blades and scraper blades are subject to the World Kitchen d/b/a/ OLFA - North America satisfaction guaranteed or replacement policy.*
If at any time you are dissatisfied with these "Satisfaction Guaranteed" products, we will provide an equally valued replacement. Please allow 4 to 6 weeks for delivery of replacement product. Should you be dissatisfied with any such product, please keep it. You may be asked to return it. Please contact our Consumer Care Center.
*PLEASE NOTE: This Policy does not apply to OLFA TouchKnife®, OLFA scissors, OLFA mats, OLFA rulers, disposable OLFA multi-purpose scrapers, all styles and models of 18mm, 28mm, 45mm, 60mm, rotary cutter replacement blades, and all styles and models of "KB" art knife replacement blades.
Note on Safety
OLFA blades are extremely sharp. Handle with care. Wear safety goggles. Always be alert and attentive when using a cutter or knife.
Take the time to fully learn the correct use and limitations of any cutter.

Never assume that you know how to properly use a knife.

Always store knives and blades in a safe place. Keep out of reach of children!